Pack CLASSIC BACHELOR RAFT
Bachelor and Bachelorette Rafting formulas with Rafting-Expérience® thrills guaranteed!
6 people minimum
The place is offered for the future groom
Reportage, photo file offered
A beer awaits you after the rafting
Classic Bachelor Rafting Pack in Serre-Chevalier – An Unforgettable Adventure for the Bachelor Party
Capture Unique Memories with a Complimentary Rafting Photo Report
We have a special surprise for the bachelor: their spot is complimentary, and they'll receive a photo report to immortalize their unique experience on this Bachelor Rafting Pack !
Bachelor Rafting: An Exciting Adventure for All Skill Levels
Our bachelor rafting descent in Serre Chevalier is an exciting adventure suitable for all skill levels.
A Thrilling Start, a Restful Section, and an Epic Finale
During this bachelor rafting experience, we begin with an exhilarating rapid that will test your skills from the start. This is followed by a more relaxed intermediate section to give you a chance to catch your breath before ending with a thrilling sequence of Class 3 rapids.
Experienced Guides for a Safe Bachelor Rafting Experience
Our experienced guides are there to help you navigate the rapids and ensure you have an unforgettable experience in safety.
Diverse and Exciting Course with a Team of Professional Guides
With a diverse and exciting course and a team of experienced professional guides, we are confident that you will have an incredible and memorable time.
Celebrate with a Refreshing Beer at the End of the Adventure
And don't forget the cold beer that will be waiting for you at the end to celebrate this unforgettable adventure with your friends!
Meeting Point: Base by the Pontillas Water Reservoir in Villeneuve
Our meeting point is at our base by the Pontillas Water Reservoir in Villeneuve.
From Monetier to St Chaffrey: A 10 km Descent, 1.5 Hours on the River
With the instructor, you will take a minibus and embark at the village of Monetier, at the top of the Serre Chevalier Valley, for a 10 km rafting descent to St Chaffrey. The river adventure lasts approximately 1.5 hours. Please allow half a day for the entire organization.
– Complimentary spot for the bachelor
– Complimentary photo report
– A beer awaits you after the rafting experience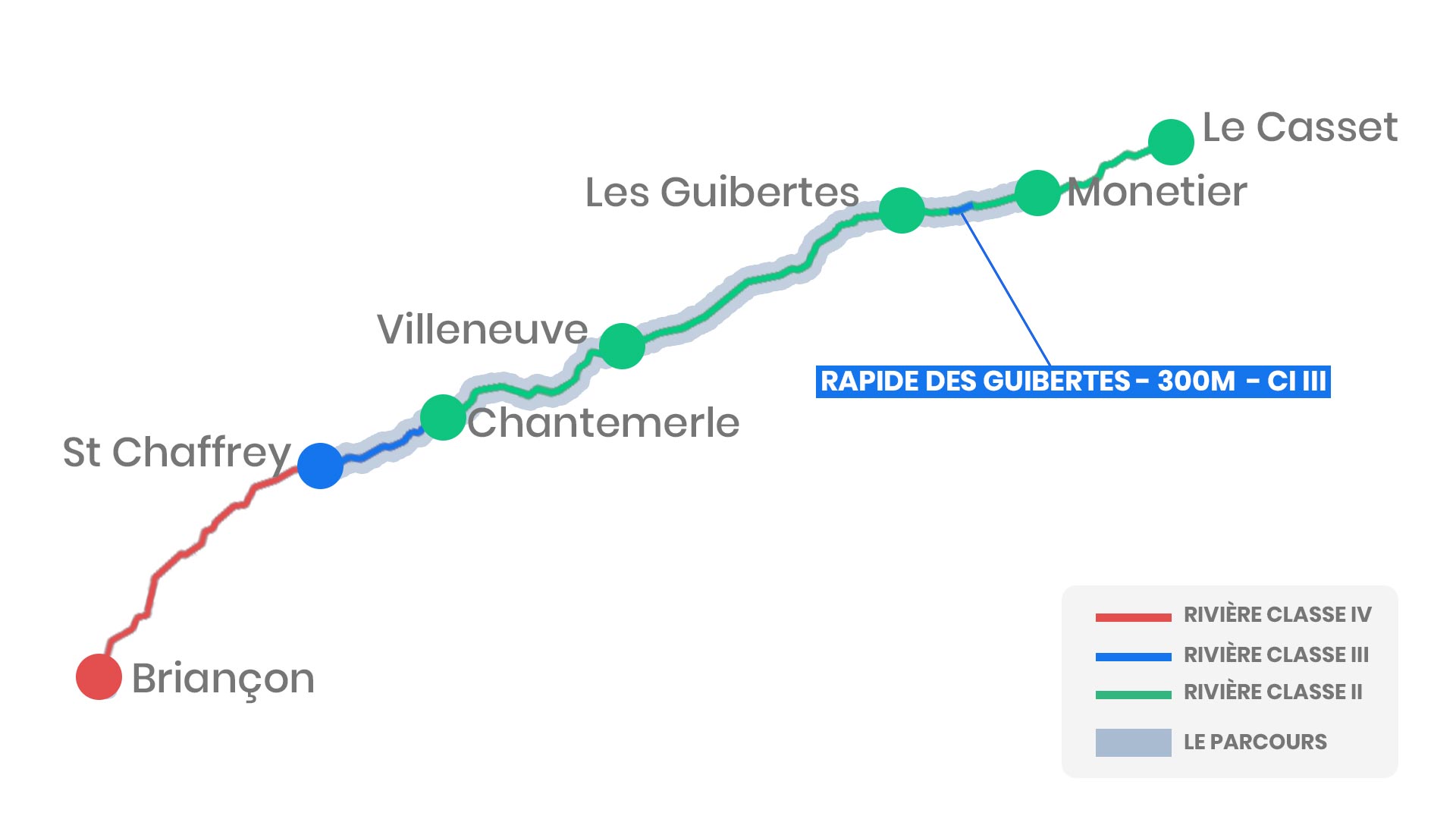 Conditions of participation
All participants must be in good shape and able to swim.
Children must know how to swim without armbands.
For material reasons the weight limit is 100 kg.
Whitewater activities involve risks and can result in serious injury or death.
The activity is supervised, under the responsibility of a qualified instructor, he is in direct radio contact with the mountain rescue.
The sessions are organized by level so that you can adapt your choice to your abilities.
See our security measures in detail.
Insurance and cancellation information
Consult our General Conditions of Sale.
In the event of cancellation pronounced 48 hours before the start of the services, and this regardless of the reason, you will be reimbursed, excluding 5€ of administrative costs.
Insurance highly recommended! Ask your insurers about coverage for the cancellation or interruption of activities at your expense (for personal or professional reasons, injury, accident, etc.)
Do not hesitate to consult what Assurmix offers