Rafting & whitewater sports Serre Chevalier
OUR WHITE WATER ACTIVITIES :
Rafting in Serre Chevalier & River Sports.
Discover the joys of rafting descents in Serre Chevalier and the numerous whitewater activities we offer on the Guisane. In addition to rafting, we provide other exciting river sports such as kayaking, air-boat, cano-raft, and hydrospeed.
RIVER SPORTS, AN EXPERIENCE TO LIVE
serre chevalier valley
Embark on a family, friends, or private rafting trip and experience the joys of rafting in Serre Chevalier and other river sports amidst nature's beauty. We are here to guide you through the adventure, ensuring safety at all times.
Guided by our instructors, imagine yourself navigating the tumultuous waters of the Guisane, surrounded by the mountains of the Alps. Rafting in Serre Chevalier offers you this unique opportunity to experience moments of pure adrenaline in the heart of pristine nature. Whether you're a beginner or a seasoned enthusiast, our experienced guides will accompany you on thrilling white-water descents, ensuring your safety and respecting the environment.
Transport
To transport you we use 3 public transport vehicles (9, 16 and 28 seats) to reduce CO2 emissions. In addition, round trips are optimized with the hiring of 2 drivers.
Respect de l'environnement
So that our navigation has no impact, we do not take or add anything to the river and offer our activities outside of fish reproduction periods.
Recyclage
All our brochures are made from recycled and recyclable paper.
Easy access
Our base has easy and direct access to the river
High-end hardware
We provide you with top-of-the-range equipment
Multilingual welcome
ur team welcomes you in French, English, Spanish and Italian.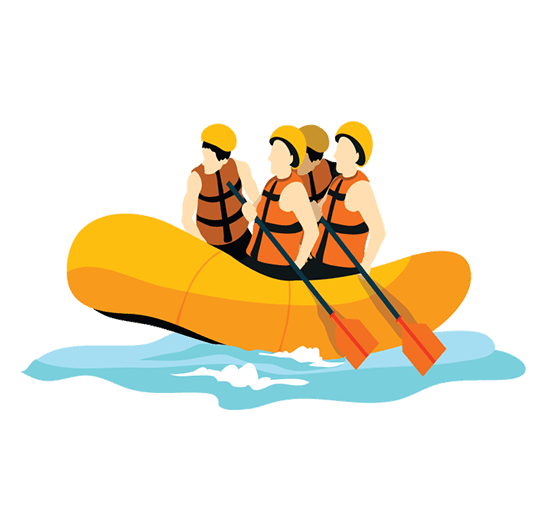 Experience
Rafting Experience has a solid experience of 20 years in the supervision of white water sports.
Rescue
We are all in radio contact and if necessary
We communicate directly with mountain rescue/p>
Care equipment
In order to deal with all situations, we have 1 DSA and 1 oxygen therapy unit available.
RAFTING EXPERIENCE IS COMMITTED
TO THE CLIMATE
By contributing to the Good Planet Foundation chaired by Yann Arthus-Bertrand, Rafting Experience is committed to carbon neutrality and helps offset 20.83 tonnes of CO2 equivalent.
Descend the Guisane with a boat built entirely of cardboard & tape !
RAFTING EXPERIENCE,
A TEAM OF EXPERTS & PASSIONATES
For over 22 years, we have taken pride in providing you with a team of passionate and expert instructors in the field of white-water sports. Our commitment is to offer you unique and exhilarating experiences in Serre-Chevalier and Briançon. We are driven by the desire to share our passion for white-water sports with you, to introduce you to the thrills and adrenaline that only nature and the river can offer.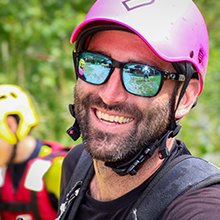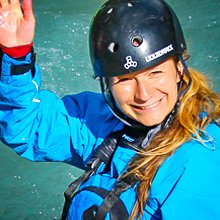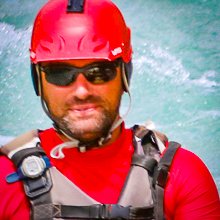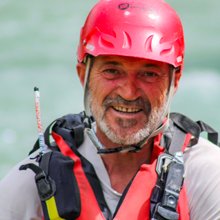 Your satisfaction our priority. And it is our visitors who talk about it best !
★★★★★
Great family outing with Hugo guiding us through the rapids. A wonderful discovery. Top-notch organization.
Pierrick Visited in july 2023
★★★★★
[…] Excellent reception, Angèle is a very professional and pleasant guide (although the jokes might need a little work :))), and the ride was really enjoyable. So, we're doing it again on Friday afternoon before we leave, with a tandem canoe raft for my daughter and me, and classic hydrospeed for my son. It's going to be even more intense because we'll be "at the helm" ourselves, so even more fun!!!! Thanks to Hugo and his colleague for their patience :).
Thanks again, excellent memories, and have a great season.
Astral Visited in July 2022
★★★★★
Excellent outing. ✅ Top-notch supervision, very professional and welcoming staff. The outing took place in a relaxed atmosphere, just the way we like it! 😎 We had a great time! Thank you!! 💛⭐
Nathalie Visited in july 2023
★★★★★
Wonderful experience with our 8 and 9-year-old children. The introductory descent was perfect for this first family experience. The team is super friendly, and the atmosphere is joyful! It was the four of us with Angèle, the instructor. She is lovely and a true professional who made this experience unforgettable! Thanks to Angèle and her beautiful smile! We will definitely come back next week to relive the adventure! The Swiss from Neuchâtel!
Lailaine S Visited in July 2022
★★★★★
What a fantastic time at the start of the season! With a good water flow and incredible sensations on the challenging course. After a gentle warm-up, the rapids become increasingly thrilling, and the final sections really give you a wild ride. The team was highly professional, making it a truly amazing experience.
Franck  Visited in June 2023
★★★★★
Amazing Cano Raft experience!
Luckily, we had Fabien as our excellent private instructor 😉
The course was really cool, and the atmosphere was very friendly. We highly recommend it!
Théophile Visited in July 2023
★★★★★
We had booked a hydrospeed session at 9 a.m., and they kindly arranged for us to have a spot directly at 11 a.m., so they were very accommodating and friendly. The adventurous course was fantastic, and we had a blast with Élodie, who was a great instructor and created a fun atmosphere! Everybody will stay in our memories! See you soon in Grenoble!
Fanny Vossenat Visited in August 2022