The Team, along with our amazing Rafting Experience® Instructors, warmly welcome you to join us in Serre-Chevalier from May onwards for an unforgettable rafting adventure around Briançon! We believe that without these incredible individuals, none of this would be possible. So, get ready for an exciting and thrilling experience on the water!
Fabien
Fabien with his contagious optimism creates a pleasant atmosphere, and his ability to transmit his knowledge makes him an outstanding teacher. His beaming smile and his expertise make him an ideal companion for unforgettable whitewater adventures. Enjoy thrilling and fun times with Fabien as your rafting guide.
Thibaut
Thibaut is a knowledgeable rafting instructor who knows how to make the river rafting experience fun and enjoyable for all participants. He is known for his quirky humor and comedy sketches on the bus that amuse everyone.
But make no mistake, behind his comical side, Thibaut is a competent and experienced professional who knows the rivers and rafting navigation techniques perfectly. He is caring and passionate about his work.
With Thibaut you are sure to have a fun and rewarding day of rafting. His quirky humor and professionalism make him an excellent instructor for those looking for a memorable rafting experience.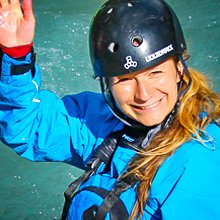 Elodie
Elodie is a rafting instructor passionate about sports and nature. She is very athletic and regularly practices boxing and rugby to maintain her physical condition. She is also very educational and likes to share her passion with people of all levels and ages.
Élodie is fluent in English, Italian and Russian, which allows her to communicate easily with participants from different backgrounds. She is attentive to the safety of her clients and ensures that all participants enjoy a pleasant and memorable experience.
Élodie is a professional, competent, athletic and pedagogical rafting instructor, who will be able to accompany you in an unforgettable rafting experience in complete safety.
Matthieu
Matthieu at the age of 7 joined the Briançon kayak club to learn and practice kayaking. Since then he has sailed over 100 different rivers and participated in rafting expeditions in Nepal and New Zealand, which has allowed him to broaden his skills and gain international experience.
With many sports rafting descents to his credit, Matthieu is a recognized expert in this field. As the founder and manager of Rafting-Experience for more than 23 years, Matthieu has acquired solid experience in the management of personnel companies.
Matthieu, an adventurer at heart, is passionate about white water sports and nature. He is determined to offer his customers a unique rafting experience.
Angèle
Angèle is a rafting instructor full of energy and enthusiasm! With a solid experience in the field, she is passionate about whitewater sports and loves to share her passion with others. Young and dynamic, she knows how to create a fun and safe atmosphere for all participants.
Sporty and adventurous, Angèle never backs down from a challenge. She enjoys pushing her limits and encouraging others to do the same. Whether it's tackling thrilling rapids or exploring new routes, she is always ready to embrace the adventure with boldness.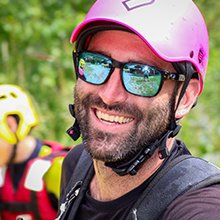 Ugo
Ugo is an experienced kayaking and rafting instructor, who has an unparalleled teaching talent. He is passionate about white water sports and likes to pass on his knowledge to novices and experienced alike.
In addition to his technical skills, Ugo is also known for his humor and charismatic personality. He knows how to make the experience of boating on the water fun and enjoyable for everyone involved, and he's not shy about sharing anecdotes and jokes to lighten the mood.
With his technical know-how, fun personality and natural charisma, Ugo is a great guide for your whitewater day.
Arthur
Welcome to Arthur, our new dynamic and passionate member of the team!
We are particularly proud to support Arthur in his continuing education as a rafting instructor. We are convinced that his commitment, his dynamism and his passion for white water sports will make him an exceptional rafting instructor.
Nelly
Nelly is an experienced rafting instructor with a bubbly and smiling personality.
As a passionate sportswoman, Nelly knows how to motivate participants to give their best and to surpass themselves when sailing on the river. She is also very safety conscious and always makes sure that all the necessary safety measures are in place before starting a descent.
With Nelly as your instructor, you can be sure of having a memorable and exciting rafting experience, which will allow you to discover the wonders of whitewater navigation while ensuring optimal safety.
Vincent
Vincent is an experienced rafting instructor, passionate about nature and preserving the environment. He is very competent in his field and knows how to transmit his passion with pedagogy and safety. As co-founder of Rafting-Experience he worked to make the company what it is today. He is always delighted to share his knowledge and experience with his clients, and to take them on a discovery of the most beautiful rivers in the Hautes-Alpes.
Camille
Camille is the secretary of the Rafting-Experience team. She is responsible for managing phone calls and reservations, as well as keeping the activity schedule up to date. She is often busy at her computer, but she always does so with a warm smile for clients who call or come to see her. She is very organized and makes sure everything runs smoothly so that clients can fully enjoy their rafting experience.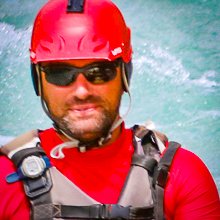 David
David is an experienced rafting instructor with great charisma and a well-developed sense of humor. He is very competent in his field and knows how to transmit his passion with pedagogy and safety. With his sense of repartee and his contagious good humor, David is an important member of the Rafting-Experience team. He likes to challenge his clients and encourage them to push their limits while remaining in a secure environment. His experience and personality make him a leader for the team of instructors, and he is always happy to share his passion and expertise with his clients.
Nima
Nima is a versatile and valuable member of our team, bringing his talent as a driver, photographer, rescuer. Always welcoming with an infectious smile, Nima leads you and as a photographer he captures the emotion of the moments of your descent. His training in first aid allows him to intervene quickly and efficiently when needed, guaranteeing everyone's safety.