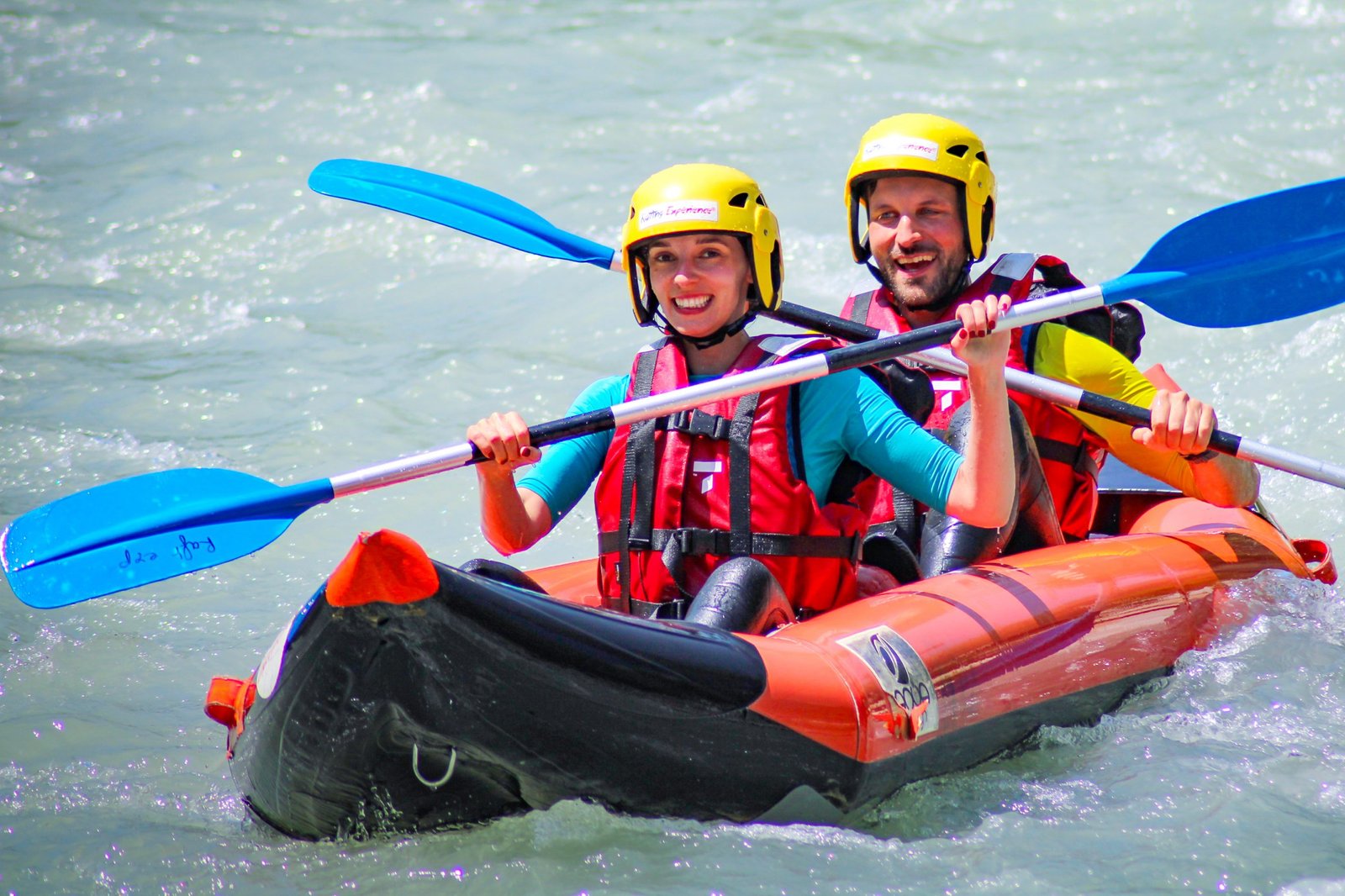 Paddle a Cano-Raft in Serre Chevalier – Classic descent of the Guisane (from 10 years old)
Guibertes / Chantemerle 5km
Classic Descent of the Guisane River on Cano-Raft: An Exciting Adventure for Couples
An Adventure for Everyone in Serre Chevalier
Accessible to anyone aged 10 and above, the classic descent of the Guisane River on Cano-Raft in Serre-Chevalier is an incredible experience to share as a couple. The 5-kilometer stretch of river offers a moderate level of technical difficulty, classified as class 2, between the villages of Guibertes and Chantemerle. The descent typically takes 1 to 1 hour and 15 minutes, giving you plenty of time to immerse yourself in this thrilling white water adventure.
Understanding the Currents with your Cano-Raft
The main objective of this activity is to understand the mechanisms of the river currents. You'll learn how to steer your Cano-Raft, navigate the currents, approach turns, and make stops. Your instructor will be there to explain all the details, guide the descent, and ensure your safety throughout the activity.
Stability and Maneuverability of the Cano-Raft
With good coordination between the members of the crew, the Cano-Raft proves to be a stable and easily maneuverable inflatable boat. You can fully enjoy your descent with confidence, exploring the natural beauty of the Guisane River.
A Serre-Chevalier Briançon Exciting Outdoor Experience
The classic descent of the Guisane River on Cano-Raft is an exhilarating activity that allows you to discover the stunning nature of the river in an exceptional setting. Whether you're a beginner or an experienced adventurer, this unique experience will provide you with thrills and create unforgettable memories as a couple. Join us now to embark on this memorable adventure!
Conditions of participation
All participants must be in good shape and able to swim.
Children must know how to swim without armbands.
For material reasons the weight limit is 100 kg.
Whitewater activities involve risks and can result in serious injury or death.
The activity is supervised, under the responsibility of a qualified instructor, he is in direct radio contact with the mountain rescue.
The sessions are organized by level so that you can adapt your choice to your abilities.
See our security measures in detail.
Insurance and cancellation information
Consult our General Conditions of Sale.
In the event of cancellation pronounced 48 hours before the start of the services, and this regardless of the reason, you will be reimbursed, excluding 5€ of administrative costs.
Insurance highly recommended! Ask your insurers about coverage for the cancellation or interruption of activities at your expense (for personal or professional reasons, injury, accident, etc.)
Do not hesitate to consult what Assurmix offers