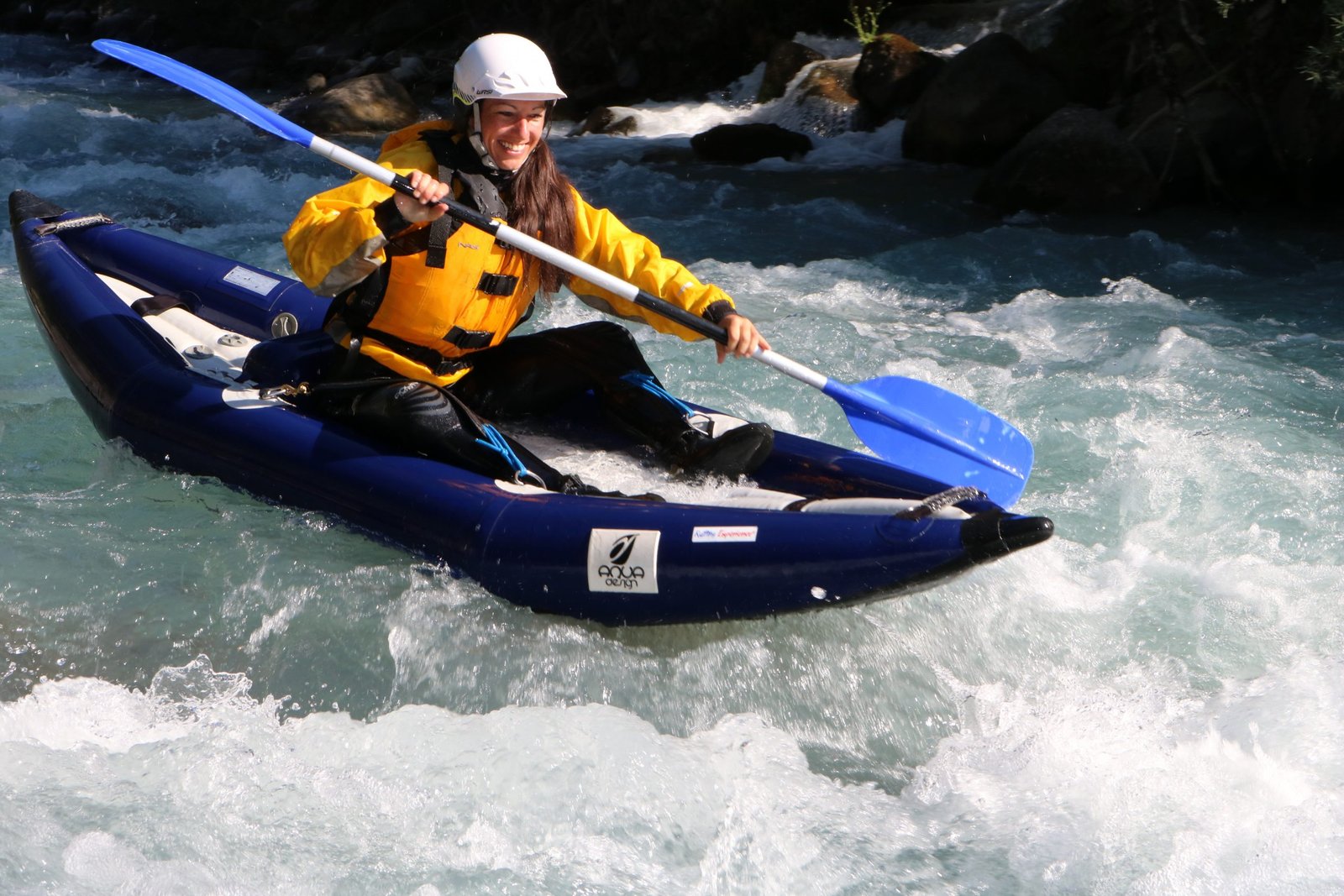 Initiation session in Air-Boat (inflatable kayak) in Serre-Chevalier (from 7 years old) – 2h
Air Boat Discovery: Initiate Yourself to Air Boat with Children
Explore and Understand the Mechanics of the River
Get ready for an exciting adventure in an Air Boat starting from the Village des Guibertes. Our experienced instructors will be there to explain and show you everything you need to know.
Maneuver the Boat Easily on the River
The Air Boat is the perfect choice for easy navigation on the river. This individual inflatable boat, similar to a kayak, is equipped with knee straps to ensure a stable position. If needed, it is easy to eject yourself to take a break or lend a helping hand to your companions. The Air Boat is steered using a double paddle.
Enjoy a One-Hour Descent on Accessible River Rapids 🎯
The one-hour descent starts from the Village des Guibertes and takes you through 3 km of easy rapids until reaching Villeneuve. This river is perfect for beginners, allowing you to have fun while discovering the joys of river navigation.
Air Boat with Children: An Independent Adventure from the Age of 10
🚣‍♀️ A Self-Navigating Experience for Children
Air Boat is an ideal activity for children aged 10 and above who want to experience an adventure independently on the river. With its simplicity and maneuverability, the Air Boat allows children to take control and navigate safely while having fun.
Younger Children Accompanied
For younger children between the ages of 7 and 10, it is recommended to accompany them in a two-seater Cano-Raft. This option allows parents to actively participate in the adventure while ensuring the safety and comfort of the younger ones. It's a great way to share family moments and discover the joys of river navigation together.
Personalize Your Adventure by Choosing Your Boat
When you book your spot in our Discovery group, you have the opportunity to choose the boat that best suits your preferences and experience level. Whether you want to navigate in an Air Boat, Hydrospeed, or Cano-Raft, we offer you the flexibility to choose your boat.
Conditions of participation
All participants must be in good shape and able to swim.
Children must know how to swim without armbands.
For material reasons the weight limit is 100 kg.
Whitewater activities involve risks and can result in serious injury or death.
The activity is supervised, under the responsibility of a qualified instructor, he is in direct radio contact with the mountain rescue.
The sessions are organized by level so that you can adapt your choice to your abilities.
See our security measures in detail.
Insurance and cancellation information
Consult our General Conditions of Sale.
In the event of cancellation pronounced 48 hours before the start of the services, and this regardless of the reason, you will be reimbursed, excluding 5€ of administrative costs.
Insurance highly recommended! Ask your insurers about coverage for the cancellation or interruption of activities at your expense (for personal or professional reasons, injury, accident, etc.)
Do not hesitate to consult what Assurmix offers