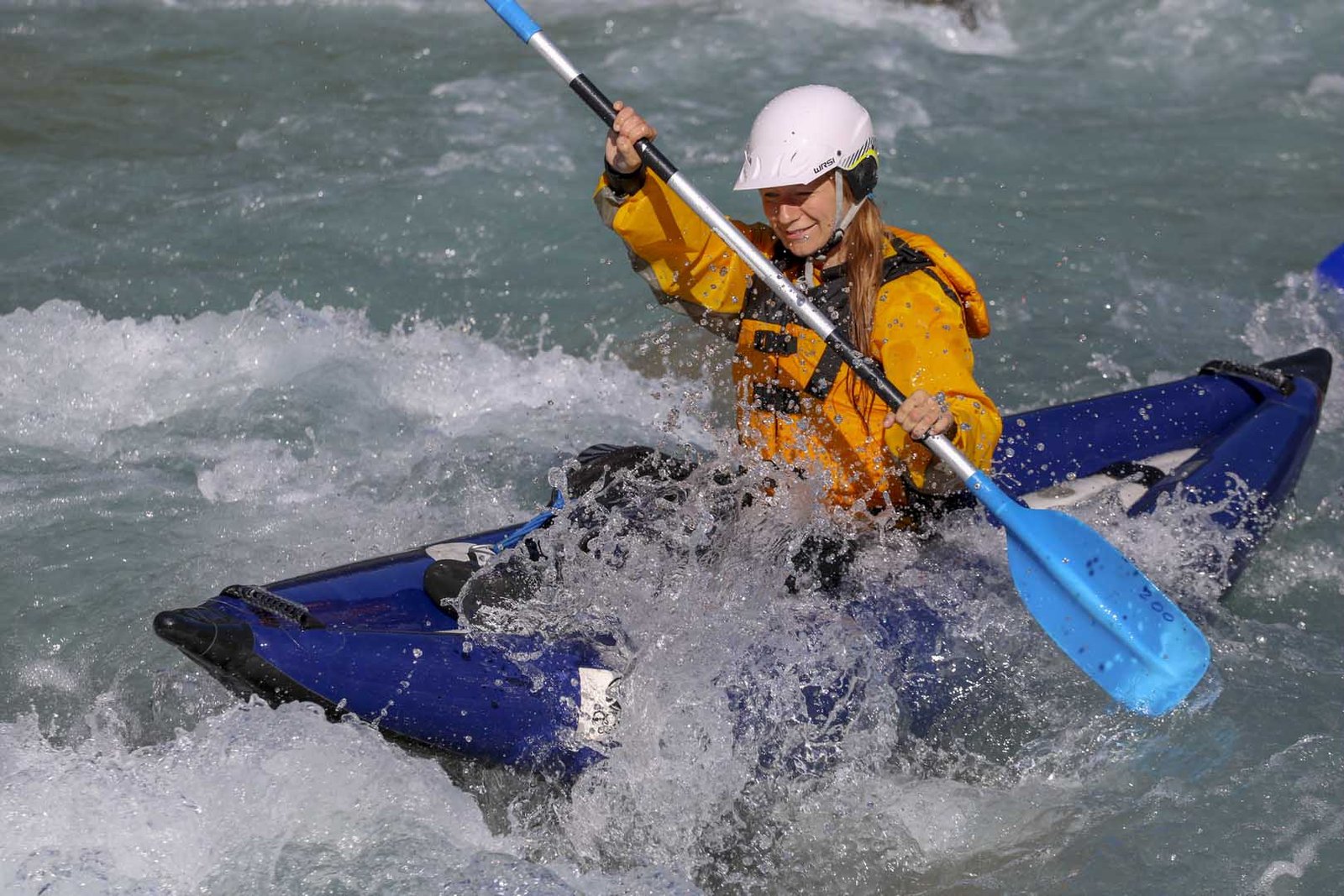 Sail in an Air-Boat in Serre Chevalier – Classic descent (from 10 years old) Guibertes / Chantemerle 5km
Descend the Classic Section of the Guisane River in an Air-Boat at Serre Chevalier, Easy and Accessible
Explore the beautiful Guisane River on an Air-Boat descent that is easy and accessible for everyone aged 10 and above.
An Adventure of 1 to 1.5 Hours on a Technically Easy River
Start your 1 to 1.5-hour descent at the village of Guibertes and finish at Chantemerle, covering a 5 km stretch of the river that offers an easy navigation experience. You will pass through charming villages along the way.
A Stable and Easy-to-Maneuver Single-Person Air Boat
The Air-Boat is a stable and reassuring inflatable single-person watercraft that can be easily maneuvered with a double paddle. You will be comfortably seated and ready to navigate with confidence.
An Experience for Children after the Initiation Course
Children who wish to participate in descent on the classic section should have completed the introductory Air Boat course. This will ensure their comfort and enjoyment during the descent. Teenagers from 12 years old can participate directly if they are enthusiastic and resourceful.
An Easy but Active Descent
The descent is easy and accessible, but it requires active participation. Participants should engage in their learning process and follow the instructions of the river guide. They will also have the opportunity to contribute to the group's safety organization on the river.
Come and experience this Air Boat adventure on the classic section of the Guisane River at Serre Chevalier. Book now for a memorable time on the water.
Conditions of participation
All participants must be in good shape and able to swim.
Children must know how to swim without armbands.
For material reasons the weight limit is 100 kg.
Whitewater activities involve risks and can result in serious injury or death.
The activity is supervised, under the responsibility of a qualified instructor, he is in direct radio contact with the mountain rescue.
The sessions are organized by level so that you can adapt your choice to your abilities.
See our security measures in detail.
Insurance and cancellation information
Consult our General Conditions of Sale.
In the event of cancellation pronounced 48 hours before the start of the services, and this regardless of the reason, you will be reimbursed, excluding 5€ of administrative costs.
Insurance highly recommended! Ask your insurers about coverage for the cancellation or interruption of activities at your expense (for personal or professional reasons, injury, accident, etc.)
Do not hesitate to consult what Assurmix offers